School First!
Nepal- present scenario


Nepal is now going through an extremely difficult humanitarian crisis due to the recent earthquake (25 April 2015). The destruction is extensive and is largely irreparable. Many thousands of people have lost their lives; numerous people have been injured and have become permanently disabled. Many unique historical monuments – that have been emblematic of Nepal and its rich historic history – have been damaged and destroyed.
Earthquakes and any other natural disasters come and go and are beyond human control. We can try our best to be prepared for natural disasters and it is best if we, as a nation and a world, can work together. We have no other option then to acknowledge the changes that nature brings, even when they are extremely painful.  We should not be deterred, however, from attempting to return to our normal lives and daily routines – or from embracing the pleasures and learning experiences of travel. It's time to get together, make our lives more meaningful and try our best to be connected to the people who need us the most. Your presence, as a visitor to Nepal, can encourage our people to recover, to heal and to move on to the life beyond the destruction. 
How you can help Nepal?
We in Nepal encourage, invite and humbly appeal to you to travel to Nepal. We also ask you to encourage and inspire your friends and relatives to travel to Nepal this autumn, when the weather is most perfect, the skies are most clear and the Himalaya, the Abode of the Snow, is most dramatic. This would be the best way to help us economically – by allowing us to return to the business of tourism, especially trekking and eco-tourism, which provides employment for a large sector of our population. Traveling to Nepal now, this year, is the important and meaningful thing that you can do to support us – to help individuals to rebuild their lives and to support our nation in the huge effort to rebuild. Please see this as an opportunity to contribute your positive feelings that will inspire our people here to grow stronger and to fight hard to gain back the lost glory of our people and our country. We are not asking for donations but we are appealing to you with all our hearts for you to support us in helping ourselves to emerge even stronger from the devastation. This is also a winning situation for you. You can return home with great memories – and with the satisfaction that you have contributed to helping us to help ourselves.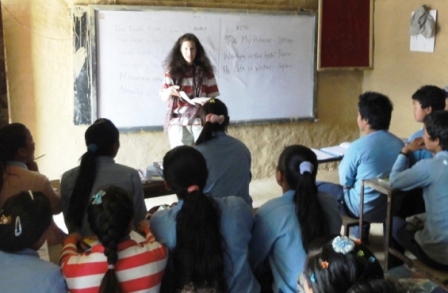 How can you be a part of this effort?
The areas affected most are the Kathmandu Valley itself and the neighboring districts including Shindhulpalchok, Rasuwa, Nuwakot, Gorkha, Kavre and Dhading. These areas are also great destinations for adventure treks and touring. Your time spent here – trekking, touring, rafting – will offer great support for us.  Volunteering to help in rebuilding and providing humanitarian aid will also be a service never to be forgotten. We would be happy to make arrangements as per your wish or requirement and destination.
We are primarily sourcing with the school in Shindhulpalchok, which is where we would like to start the work of rebuilding. We would like to then move to Rasuwa and then to other schools in the future. If you wish to provide volunteer service, we will organize your normal trek or tour either before or afterwards. Or simply trek or tour with us. We are putting 5% of your trip cost into the work of rebuilding; you are also welcome, of course, to provide any additional assistance that you wish. It's up to you. We will provide all the logistical service necessary for your trip. Each trip will be designated to provide support to one school in the form of volunteer effort and donations.
We at Nature-treks.com, will take care of all the logistics and customize your trip as desired. 
Come join us and be part of rebuilding Nepal!
Nature-treks.com Himalaya
Kathmandu, Nepal
[email protected], [email protected], [email protected]
www.nature-treks.com