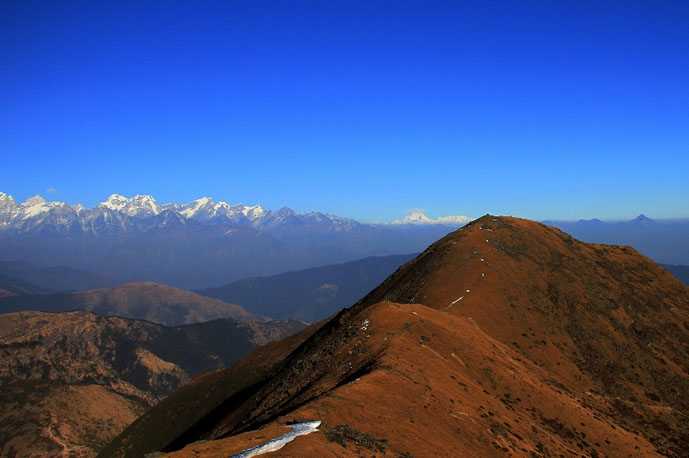 Exploring Pikay Peak 4060m
Exploring Pikay Peak 4060m 
  An Amazing Short Adventure Tour, Lower Everest area, Nepal!
It is a very scenic drive to Pattale (2860m) in Solukhumbu, close to the boundary with Okhaldhunga. The road goes through valleys, towns, villages, up hills and along a ridge that gives views of beautiful snow clad mountains to the north. It was a good journey despite its length, (9 hours) in the crowded public jeep.
This journey was to explore the Pikay Danda (peak) area starting from Pattale, which is a great place to start and possibly end before returning Kathmandu. Accessible by road from Kathmandu, Pattale now has some good lodges and hotels. The newly built Himalayan Eco-Home is perhaps the best, owned by previous trekking enthusiastic and guide Dambar Magar. Pattale is a mixed community village with a majority of Magar and Sherpa. Walking up behind the village, Pattale also offers a fantastic panoramic view of some of the highest mountain peaks in the world, including Everest.
After a pleasant overnight at Himalayan Eco Home, we left the village to explore the trail. Walking along, passing the snowy path, we even had few small slips. It was beautiful walk through farmland, forest and meadows with lively birds flying around. After a few hours we came to a small but attractive Sherpa village with the beautiful mountain views, where we were welcomed for local tea and cheese. This village called Bagam has only three houses. Just near the house, we saw some beautiful birds such as Laughing Thrushes and Redstart. We continued further to arrive on the ridge and followed a newly constructed jeep track, with passing a small settlement of Singane. We gradually climbed the ridge through forest, passing people farming potato (bung style) and then continued to Jhaphre, a larger village and the last main settlement before Pikay.  This small settlement has a few houses, hotels and a monastery, and also overlooks the Himalayan panorama. After our quick lunch (as we were already passed noon), we hurriedly continued on the trail, following a rough jeep track. Getting a little confused, it took a while before we came up on our next destination for the night. The trail seemed never ending. For a while I had to convince myself we were on the right track but eventually we saw a light ahead and a house in the darkness besides the road. A small single solar light bulb was shining. What a relief! Once we got near, we saw a family in the kitchen, who were actually getting ready to retire for the night (it was not long after 7 o'clock). It was great to be there at Bulbule, where there is just one house.
Next morning, getting up in the middle of the nowhere as this is the only lodge there, it was great to have breakfast outside in the morning sunshine on the hillside. After our hearty breakfast of tea, omelet, roti and potato, we started our journey along the gradually rising track that offers the most spectacular views of the Himalayas. We strolled our way along the open grassy ridge leaving the road that diverts down to the east. Our trail made a small climb and arrived at few houses before entering the forest. It was lovely walking up and down and around the hill through the forest, where I managed to get a nice picture of an Alpine Accentor, a bird that was lower than its usual habitat due to the winter.  We went through the forest and passed a couple of Goths and pastures, going around the hill, with views to the south and east. Walking down to a Bhanjyang or pass, we went past long and old man walls to an amazing spot with a view point between the two hills that is accessible from all four directions. From here we could see the wide panorama of snow clad mountains including Annapurna in the far west and Manaslu, Ganesh Himal, Langtang and Jugal range, Gauri Shankar and Numbur peaks.
The trail then makes a steep climb up the actual Pikay hill where the view of the mountains in the west and in front becomes even more dramatic. Arriving at the Yak Kharka, popularly known as Pikay Base Camp, we found two hotels and a cheese factory. We set out to the top of Pikay Peak, after sorting out our accommodation and food for the night in the lower and much smaller lodge, trying to distribute the benefit of our business in smaller place too. A good idea!
It was nice ascending the hillside and arriving at the summit of Pikay Peak 2 that was marked by prayer flags and stone cairns. It is a wow-amazing summit with a 360 degree view. There was Annapurna in the west and Kanchenjunga in the east with the Sagarmatha or Everest, straight ahead to the north in a breathtaking view. This is the point where the eastern Himalayas meet with the western Himalayas. -Best of all, this superb view is from a hill of little over 4000m. The twin peak of Pikay 1 is a little further, with just a difference of a few meters. This is also marked with prayer flags, a chorten and also a mobile phone tower where the view of the mountains and the village below were definitely worth all the effort.
Next day was quite an adventurous day for us as to avoid the icy and slippery lower trail; we again had to climb up from Base Camp to Pikay peak 2 and make our way down the steep path to Jasmane pass at 3500m. The first part was very narrow, rough and rocky, but the views were still amazing. The trail eventually entered the rhododendrons, where we saw a large flock of Blood Pheasants, a beautiful sight as they made their way up through the undergrowth. It was bit painful to climb down. Already after midday, after a short tea break, we started descending through a beautiful forest of fir and pine.  After an hour of descending, we met the road and a house where there was a little excitement until we found that we were still a long way from our destination Salleri.  However, we were lucky to find a tractor that was at Loding village to collect fire wood. With the daylight failing, we just wanted to get to Salleri so this was the only option. The ride was extremely bumpy and rough, shaking us up enough to add a few more aches and pains. We drove pass the Solu river at Kholaghari and further, near Salleri, we got a jeep for the last part of the journey to arrive near Zero Point in Salleri and the welcoming Moon Light Hotel at around 8pm. The hotel host, very kindly to provided us dinner before we went to bed, tired but happy to have reached our destination in one piece. What a day we'd had! It was certainly very memorable. Next morning after waiting three hours for the jeep to finally get moving with all of its passengers, we made it back through the rain to Kathmandu
This area is an amazingly beautiful destination that is great for international and domestic tourists, who will love it as somewhere a bit different from the famous more popular areas. The views, the scenery and cultural experience are unique too. It is possible to go for a short trek for four or five days, or even 10 to 12 or more days as there are many possibilities in this area.
Vimal Thapa/Nature-treks.com Himalaya, [email protected]/Tel#9801024777
Sorry, the comment form is closed at this time.