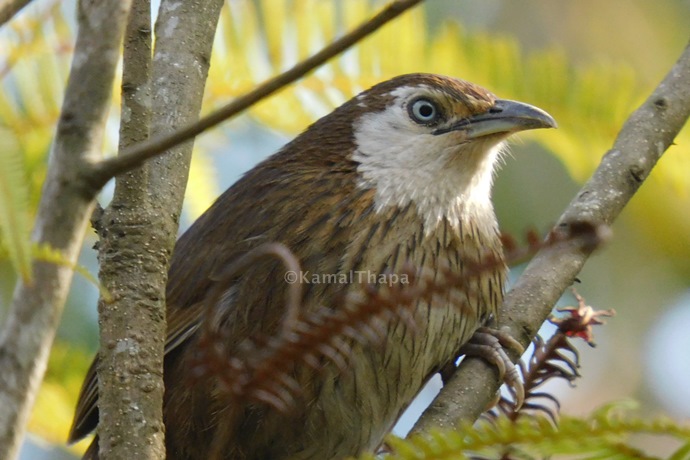 Haibung birding
Birdwatching @Haibung and Dhap, Shivapuri national park
It was so refreshing to be out in nature, not far from Kathmandu, yet out in the wild, in the nature that I loved every moment.
The long due trip, finally was taken with 2 night luxury stay at Prakriti Resort and Organic farm.
Starting at Sundarijal at 7am, on the clear and sunny day was beautiful already with almost nobody around on the trail. Felt bit dry as the season and could benefit of walking without the dust as no traffic on the dusty road. I was greeted by so many beautiful birds such as Scarlet Minivet pair, both male and female and with many other species such as Himalayan Black-lored and Green-backed Tit, Grey-hooded Warbler and Blue Whistling Thrush. Along the path, could see the refreshing sound of Nagmati and I made a climb after crossing the river on a small bridge, to Mulkharka.  Arjun Tamang, who was with his mountain bike joined me there. We had tea in one of upper tea shop and continued to climb the steps through the village to arrive on an open ground,  from where the couple of peaks of Jugal Himal come in view, that was wonderful welcome. I had a little break and drink there. After enjoying and feasting my eyes with the beauty of nature – the lush green hills around and valley, managed to quick glimpse and even photographing, the Eurasian Sparrowhawk, beautiful raptor. I continued  along the valley through the creeks and stone laid path mainly for bikers and hikers but we do see four wheeler some time making up there. And motorbikes can easily go  through this too. The beautiful trail was lovely with the birds around and beautiful Nagmati river on the east was wonderful.
Arriving at the Hille Bhanjyang the Jugal Himal range comes in view with the Prakriti Resort and organic farm on the other side of the hill, amazing sight. As it was already a mid-day I was feeling a bit hungry and hurried to the Resort, to wait for some time due to their ceremony that was going on. Anyway wait was worth for delicious Dal Bhat. Did walk around in the afternoon, exploring some birds of that area.
Next day woke up early at 6am, well before the sunrise and enjoyed the great moment of sunrise in the east and setting moon in the west, that was wonderful experience.  And started exploring the birds on the way down on the path we came in. Soon, what a great surprise to see and hear the, Spiny Babbler, our only endemic bird there. Lucky me! And I also recorded many other beautiful birds  such as – Golden Bush Robin, Streak-throated and Rusty-cheeked Scimitar Babbler, Grey Tree pie, Rufous-breasted Accentor, Common Rosefinch and Himalayan Rubythroat etc.
After late breakfast, I set out with a local guide, young Ram, who guided me to Dhap and down to Nagmati river, that was great with so beautiful forest and mountain view. Migratory and beautiful Wallcreeper was good to see on the construction site of Dhap Pokhari. This work seems undergoing huge construction to collect the water to recharge bagmati river, hopefully that will be done though its looks so ugly with the so many trees being cut down and all the machine before the mountains. Save us from our own destructive developments, what we call it! Shame on human, how nature is being exploited and destroyed sadly in the name of development. On the way back explored Sanodhap, that was great for many birds too (Blue-winged Minla/Siva, Blue-fronted Redstart, Lemon-rumped warbler, Oriental White-eye and many other species).
Arriving back to Resort for lunch and I continue exploring around and afternoon delight from the resort was Steppe Eagle that circled over us, an amazing view and later Yellow-billed Blue Magpie that allowed me to photograph as it just came near the kitchen, though not so close and as the sun was already down, making it not so comfortable for light for bird photography.
Next morning I continued, exploring around the same area near the resort, and had to stop as I was moving out due to my time constraints back to Kathmandu after breakfast. The highlight of that morning was Yellow-bellied Flowerpecker both male and female, Common Rosefinch, Slaty-headed Parakeet, Yellow-breasted Greenfinch and of course how can I forget the majestic Black Eagle in a little distance below the place where I was soaring effortlessly and beautifully. At the same time one Thrush- that is believed to be a hybrid of Black-throated and Dusky Thrush was very tricky, though still not sure such things can have in pure wild also. This Thrush lacking the supercilium with dark throat but with rufous on its primary is something, hard to tell. Anyway that that was wonderful.
After breakfast, we left the Haibung through Dhap, where I tried to bike for some time and back to the trail at Nagmati and back to Sundarijal to drove back on my bike back home arriving latter in the evening. What a fantastic trip that was specially during the restriction of pandemic. It was so fresh, refreshing and rejuvenating experience of this time.
See you and go to the nature, you will never regret! Or join me for this birds and nature hike out there!
Sorry, the comment form is closed at this time.