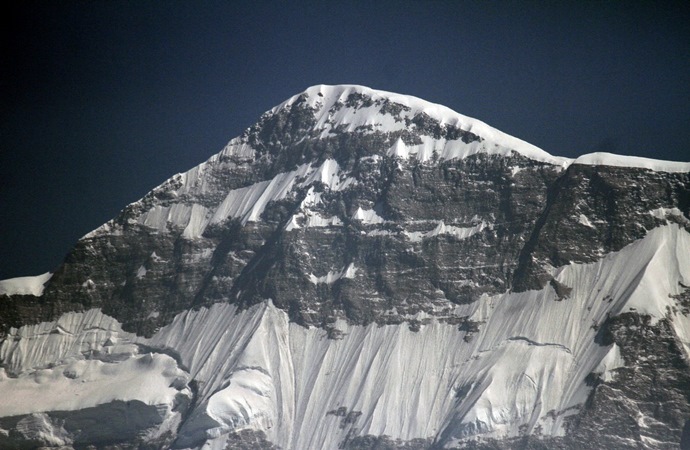 Dal-bhat power!
Awesome, Gurja and Gurja Mountain peak!
With DALBHAT power
Finally, after 14 months of stagnant life, I managed to get out of Kathmandu, on a real trip  to Gurja Himal area. This trip (with drive and walk) happened to Dhaulasiri province of Myagdi district in West Nepal. It was a new area for me even though it is not far from very popular city of Pokhara and Annapurna Conservation area- one of the most popular trekking areas in Nepal. The mountain Dhaulasiri or popularly known as Dhaulagiri- the 7th highest mountain of the world in Nepal with many other mountains such as Gurja (7193 m) and Churen (7385 m) is a great destination for mountains climbing and adventure trekking and natural excursion tours.
It was on April 6th, when I was invited to join a team of experts who were writing the tourism master plan of this area. I was assigned to collect the data of birds and biodiversity of this area that we visited (7 gaopalika/wards). I was very happy to have to list the birds of this area mainly with other wildlife, just what I wanted. The time was almost okay with everything open and COVID-19 bit down at this time. Boarding on tourist bus to Pokhara, with 7 hours journey and overnight in Pokhara, we arrived to Muna next day in Dhaulasiri province. It took another 7 hours journey with good road and dirt road travel by jeep.  Muna was the centre point of this area to go around.
The real journey on foot, that I was looking forward starts from Mahtala, near Muna. Anyway after visiting and meeting with locals, we started walking from Mahtala on mid-day even though it was a very short walk today. Leaving Mahtala, crossed the Myagdi river on a small bridge, we made a short climb on the other side of the hill to descend to cross the river on a suspension bridge. Walking on the new dirt road (good for the people and not so good for the tourism), we climbed back to arrive a small village of Lumsung, where we had a good meeting with locals and stayed checked in a Homestay nearby. The village also had a hospital, Govt office and good school building though was very next to a huge landslide site. We also saw the camping ground in the middle of the village, where locals also were seen practising archery- the famous sports of this area by the Magar and Chhantyal communities). With a some free time we managed to go out to the water and I managed to see and so some beautiful birds such as Grey Bushchat, Crested Bunting, Verditer Flycatcher, Streaked Laughingthrush, Long-tailed Minivet and an important bird Long-billed Thrush that I recorded in the morning next day, when I was out early by myself. It was a good place to see birds for sure!
Next morning leaving Lumsung, we climbed to a large village of Lulang, where we also found a good hotel of this area, should say, but we continued as today, a long day we were told. After the village, we enter the forest trail on the side, was beautiful forest of mixed vegetation with Magnolia and Rhododendron bloom. Continuing on the trail to the hillside, we passed a few lovely creeks and climbed through the dominant Rhododendron forest with Daphne flower on the forest bed. It was a bit tiring as our supply of water was running out and felt empty on the system. Our lunch place, luckily was on the top of these hills, looking not far. And pushing further, we arrived at Deorali (3232 m) with one house that was almost ready for us. What a relief to have arrived there and getting the soft drinks that not so keen most of the time but the thirst and the hunger made it feel so great. I was also thinking in a corner of my mind, the bottle of chill beer…haha, haha) The warm lunch Dal bhat (rice, lentil and vegetable curry with pickles)  was wonderful- so we got power of Dal bhat, so they say Dal Bhat power 24 hours in Nepal.
So the most challenging and day one of walking with long day. After lunch, we made a steep descent down to a goth of one house, where we had tea and traverse before climbing down to the suspension bridge. It was along this path I enjoyed watching and hearing many birds, among which Mrs. Gould's Sunbird was the highlight. Before crossing the river to other side we could see very blurry view of Gurja Himal. The pollution and the weather have not been so favourable on this trip. Anyway, we had to make another steep climb to the top, near Shiva temple and ranger post. It was already dark by the time we arrived here, and we were offered water at the post, that was nice. Thanks for the post. Still to get to the Gurja, we had to walk for another 30 minute in the dark. It was good to be there at the homestay, it was a nice place, and we took some 12 hours to get there.
Next day we explored the area and had a good meeting with the locals. It was a large village of predominantly Chhantyal community with other tribes. Gurja has stone mine and hence houses are all stone made though some changes are already seen with modern houses that was there. This mountain community is a wonderful people with great hospitality on this last village of the province before the Gurja mountain. This place seems a good connecting destination to the mountains peaks and to Dhorpatan and to Dolpa in the west Nepal.
After having a wonderful stay and hospitality, we did bid adieu to Gurja. We started  back down to the river to make a steep climb up to Deorali and with another down all the way to Lumsung via Lulang. It was an achievement as we only took  some 10 hours to get back this time.
Wow, that was a great experience of really walking or trekking I would say after some time!
After Lumsung, short walk to Mahtala, where we enjoyed the large waterfall (3 as we were told), but we saw only the main one, probably the largest waterfall of the area (90 m). The water wall was so pristine and pure and would make a great waterfall for Canyoning adventure here in this area. After enjoying a waterfall, we drove to Mudi, another village on the other side of Muna and then to Marang via Durbang. It was a great morning. I explore the area nearby the riverside and did bird watching, that was wonderful. This was the lowest place of all the visit (1200 m) where I recorded to record the illusive Pied Thrush and juvenile Brown Dipper with many other species of birds.
After lunch, we did a steep climb up to the last place of on our list- Malkawang, with overnight and back to Marang to drive back to Beni and Pokhara finally on day 10th.
It was a great and memorable trip!
Sorry, the comment form is closed at this time.