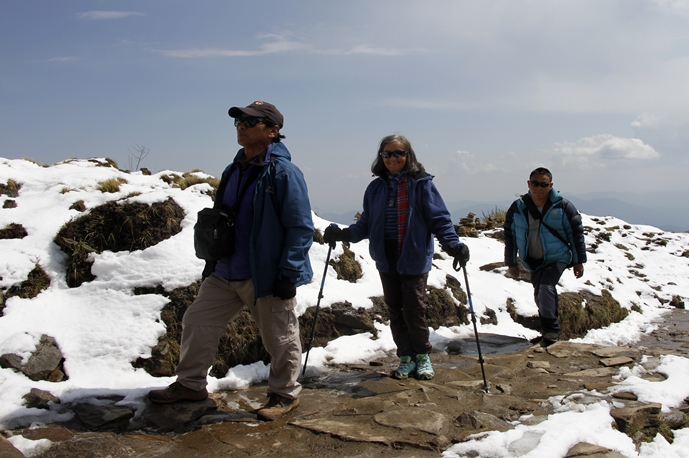 Beautiful Mountain Journey!
Mardi Himal and Annapurna Base Camp Adventure Journey!

The adventure began in Pokhara, with a short flight from Kathmandu and a quick drive to Kande. I was thrilled to embark on this journey alongside my client and friend, Anne, from Norway. This marked her 11th trip to Nepal as a passionate mountain lover and hiker. It was a privilege for me to guide this expedition after the challenging period of Covid-19. The journey was twofold: first, a visit to Mardi Himal, and second, to Annapurna Base Camp. Both destinations are renowned for offering the best short hiking experiences, truly immersing travelers in the heart of the mountains. This adventure provides the shortest route to be amidst the mountains, surrounded by snowy peaks that defy adequate description.
Weather favored us until we reached Forest Camp for lunch. However, heavy rain that afternoon meant we had to pause our journey there. The next morning was splendid, but just as we approached Badal Danda, a mix of snow and rain added an extra layer of challenge, albeit temporarily.
At Badal Danda, where mountain and surrounding vistas are at their best, the ridge's pinnacle offers a spectacular view of Machhapuchhare and Annapurna peaks. Their proximity is so profound that you almost feel like you can touch them. It was an awe-inspiring experience.
After relishing the morning's beauty, we retraced our steps to Forest Camp and descended steeply to Landruk, a sizable village that serves as a junction for various trails.
Upon descending steeply to Landruk, we found comfortable accommodation, good food, and a peaceful night's rest. From there, we moved on to Chhomrong, the gateway to this mountain sanctuary.
Perched across from Mardi and above the gorge, overlooking Hiuchuli peak, Chhomrong is a charming village or perhaps more fittingly, a town. With numerous hotels, delectable cuisine, and accommodations, it's a perfect place for last-minute supplies—especially chocolates, cookies, or warm clothing.
From there, we descended to the river and ascended to Sinuwa, the entry point to the gorge beside Hiuchuli. This beautiful forest is a haven for birds and diverse biodiversity. Mountain goats and Black Bears occasionally grace the trail or our overnight spots.
While most journey onward to Dovan, we opted for the quieter and more welcoming Bamboo for our stopover—a decision that proved excellent.
The following day, we progressed to the main sanctuary. Unfortunately, rain during lunch and the need to detour around an avalanche-prone area due to the season's conditions made the trail challenging. The rain and snow transformed the trail into a muddy, slippery stretch. Nonetheless, we reached Machhapuchhare Base Camp (MBC) at 3700 meters. Just before arriving and amidst the snowfall, a flock of exquisite Grandala birds emerged—a sight I managed to capture in photos, although not as sharp as I'd hoped.
With heavy snowfall in the morning, we had to delay our departure for Annapurna Base Camp. However, as the snowfall lessened after lunch, we made our move. Despite the slippery and snow-covered trail, we reached Annapurna Base Camp well ahead of our two-hour target.
The experience was utterly remarkable. I was elated that Anne achieved this milestone, which held immense significance for me. We savored our time there, exploring the moraine ridge, gazing at the glacier and moraine river below the main Annapurna Base Camp. The colossal presence of the 10th highest mountain in the world, Annapurna, stood before us—a sight I'd cherished during countless prior visits.
The next day began with rain at MBC, leading us down to Bamboo—a challenging descent that demanded balance and care. Despite getting drenched, we arrived at the comfort of Bamboo.
From Bamboo, we hiked to Sinuwa and onward to Chhomrong, where we enjoyed lunch before descending steeply to the lengthy suspension bridge and finally, to Samrong. There, we found a jeep waiting, which took us back to Pokhara.
I was relieved to be back in Pokhara and eventually back home in Kathmandu. Although this journey came to an end, it marked the beginning of new adventures in the future.
Wishing you a fulfilling journey to your next destination…
Sorry, the comment form is closed at this time.